In 1870 the idea of an 1 Leu stamp was once again considered. A new project, similar to the one of 1869 was done.
This time Prince Carol was facing right and was bearded. Also this project was abandoned.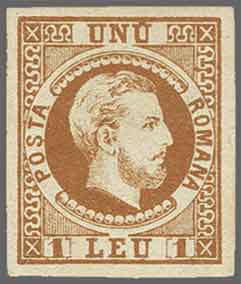 courtesy: Corinphila Auktionen
* Note
G. Matheescu wrote ("Filatelia pentru Toti" N:o 23/1933) that he had information from ex- post director G. Cantacuzino that copies of this essay had been used on letters from Prince Carol to his family in Germany in 1870. Not verified.
Do you have more information on this issue - Please contact us!