Consiliul de Patronaj (1942 - 44)
This was an official goverment charity in WW2, under the patronage first of the Queen Mother and later the president was the wife of Marshal Antonescu. These official charity stamps were often used on documents together with normal revenues.
29/10 1944 Consiliul de Patronaj changed name to Liga operelor sociale and cut down on its activities as a result of the new political situation.
forerunner:
1942 Sarul ostasului (Soldiers gift)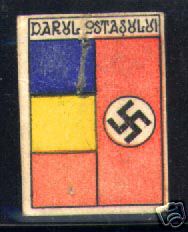 *
1942 1st issue
5L carmine brown
20L violet
100L brown
500L blue-grey
1942 2nd issue
5L brown
20L violet
100L brown
500L blue-grey
1943 3d issue (pm = perforated in the middle)
10L green pm
20L ultramarine
20L ultramarine pm
50L brown
50L brown pm
100L red
100L red pm
500L violet
1943 4th issue

10L green
20L lilac
50L yellow green
100L blue
500L reddish brown
1943 5th issue
10L reddish orange
20L lilac
50L blue
100L brown
500L green
1943 6th issue Small version of 4th issue - changed background cross at right over helmet.
20L red
50L green
100L blue
500L orange
1943 7th issue 3 years consiliul de patronaj 2 designs
20L blue
40L reddish brown
100L violet
500L olive
1944 8th issue 3 designs
10L violet pm
20L reddish brown
20L reddish brown pm
40L red
100L grey blue
100L grey blue pm
500L slate green
500L slate green pm
1st design
woman + 1944
woman + 1944
dove + cross
dove + cross
dove + cross
1st design
1st design
1944 9th issue (same design as 10L & 500L 1944)
20L magenta
100L grey blue

1944 Army Christmas
| | |
| --- | --- |
| 40L dark green | |

1944 Totul pentru front, totul pentru victorie (All for the front, all for victory)
| | |
| --- | --- |
| 100L dark violet | |
1945 Pentru raniti (For wounded)

20L light blue background
40L yellowbrown background
100L yellowbrown background
500L light bluegreen background